How to Apply for Clean School Bus Program Funding
With $400 million available through a competitive grant process, this is your chance to bring a clean ride for kids to your community.
Image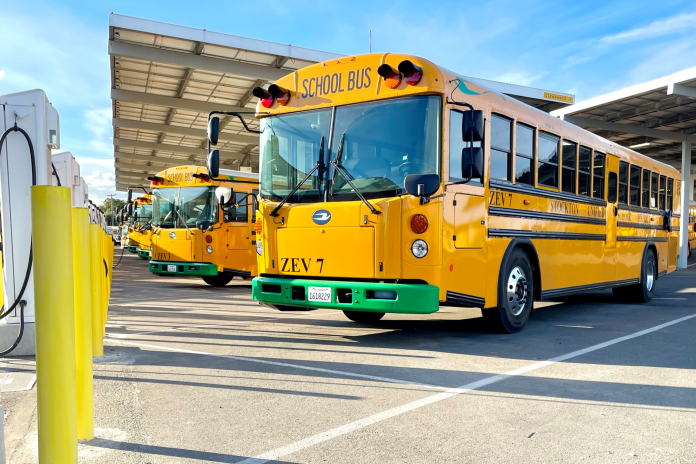 As part of the Bipartisan Infrastructure Law, Congress authorized up to $5 billion to replace polluting diesel school buses nationwide – and approximately $400 million of these funds are available right now for school districts and fleet operators.
These funds can be used to purchase electric school buses and charging infrastructure through the EPA's Clean School Bus Program, providing school districts and other eligible applicants with a historic opportunity. This is your chance to bring the health, air quality and climate benefits of clean-running electric school buses to your students, communities and school districts – using federal dollars to cover up to the full cost! 
The first round of funding through the Clean School Bus Program (CSBP) was 2022's rebate program, which saw nearly $1 billion in funds awarded to school districts in every state, multiple territories and in Tribal communities – with approximately 95% of funds awarded to zero-tailpipe-emissions electric school buses, due to overwhelming school district demand. 
Now, the EPA has opened the second round of funding for applications, with approximately $400 million available through a competitive grant process. Here's what you need to know and how to apply.
How does the grant process work?
Unlike last year's rebate program, this second round of CSBP funding is a competitive grant process. That means applicants need to submit a complete grant application by the August 22, 2023 deadline. The grant application includes a number of required forms – the full list can be found in Appendix B here, and you can find the necessary forms on the EPA's site.
Who is eligible to apply for Clean School Bus Program funds?
All public school districts in the U.S. are eligible to apply for funding through the Clean School Bus Program!   

That includes school districts in all 50 states, Washington, D.C., Puerto Rico, Guam, American Samoa, the Northern Mariana Islands and the U.S. Virgin Islands, as well as Native nations, tribal organizations and tribally-controlled schools. Public charter schools with an NCES District ID are eligible as well. In addition to school districts, private fleet operators can also apply directly for CSBP funding.    

Other eligible organizations include nonprofit school transportation associations and certain types of eligible contractors (including school bus dealers, Original Equipment Manufacturers (OEMs), school bus service providers, and private school bus fleets that provide school bus transportation services).   

See full details, including information about priority districts, from the EPA.
When are CSBP applications due?
The application deadline is August 22, 2023. You can see other important dates here, including the August 9th deadline to submit questions to the EPA.
How is the grant program structured?
This round includes two sub-programs: one for individual school districts and Tribal applicants and one for third-party applicants (eligible contractors, including OEMs, dealers, school bus service providers, and private bus fleets) that serve at least four school district beneficiaries.    

This round is a competitive grant program. Unlike the 2022 CSBP rebate round that utilized a lottery to select winners, this grant competition will require an application that will be scored based on a series of criteria. You can find more about the criteria on page 46 of the EPA's Notice of Funding Opportunity.
What are priority school districts?
The EPA has designated certain school districts whose applications will be given priority and who are eligible for higher funding levels based on Congressional guidance. These priority districts are high-need school districts and low-income areas, with an expanded definition (compared to the first rebate round) including large public school districts, rural school districts, Bureau of Indian Affairs-funded school districts, and school districts that receive basic support payments for children who reside on Indian land.    

School districts only need to meet one of these criteria in order to be considered a prioritized school district under the grant program. A list of priority school districts can be found here.    

School districts have the opportunity to self-certify as priority school districts even if they are not in the list of priority districts, if they meet certain criteria. Districts can self-certify if they are a large public school district with more than 35,000 students or more than 45 public schools, or if they received a Title I, Part A grant through the Elementary and Secondary Education Act in the 2021-2022 academic year. You can find out more about self-certification here.   

All school districts, whether designated as EPA priority school districts or not, are eligible to apply – and with approximately $400 million in this round of funding, it's a historic opportunity to bring the benefits of electric school buses to your students!
What can the CSBP grants fund?
In this grant round of funding, priority districts are eligible for up to $395,000 per electric school bus, which can be used for the purchase of an electric school bus and the associated charging infrastructure. School districts that don't meet the priority district criteria are eligible for up to $250,000 per electric school bus. You can see the full breakdown on page 10 of the EPA's Notice of Funding Opportunity. 

Importantly, applicants need to show that the electric school buses they are purchasing are replacing existing diesel-burning school buses model year 2010 or older. If you don't have any diesel-burning buses from 2010 or older to replace, there are a few exceptions that may allow your school district to still apply– see page 16 of the EPA's Notice of Funding Opportunity. 

New this grant round, applicants can also apply for funding beyond the $395,000 per electric school bus if that funding covers related costs beyond the electric school bus and charging infrastructure. This means you can apply for funding to cover associated costs like hiring personnel to oversee the successful implementation of your electric school bus fleet; renewable on-site power generation systems; necessary travel and fringe benefits; workforce training for maintenance workers, technicians and drivers; battery storage technologies and more. 

Please see section 10, page 37 of EPA's Notice of Funding Opportunity for a full breakdown of all eligible funding types under this program. This is a new aspect of the Clean School Bus Program, and it provides a great opportunity to secure funding for important aspects of your electric school bus transition that go beyond the cost of the bus and charging infrastructure. 
Is this Clean School Bus Program grant round right for my district?
The second round of funding through the Clean School Bus Program, now open for applications, is a competitive grant program. Depending on your district's needs, the grant program may or not be the best time to apply for CSBP funding. You can see a comparison of the current grant round of funding and the previous rebate round here, as well as some key considerations and a decision tree to help you decide whether the grant round is right for your district, all developed by the Alliance for Electric School Buses.  
How do I get started?
If you're an eligible applicant, begin by setting up an account for your organization through Grants.gov, if you don't already have one. This involves making sure your organization has both a Unique Entity Identifier and is registered on SAM.gov. The EPA advises that this process can take a month or more, so it's a good place to get started right away. Learn more about this process on the EPA website.   

You should also begin the planning process for transitioning to electric school buses as soon as possible. Our Step-by-Step Guide can walk you through the key steps in that process, including:
Foundation Setting

Charging Infrastructure and Operations Planning

Procurement and Installation

Training, Testing and Deployment

Performance, Benefits and Scaling
Throughout the process, it's important to actively engage with stakeholders in your school district, those directly involved with your pupil transportation process and within the community. Check out the Step-by-Step Guide to learn more!

You should also start compiling the necessary documentation for the grant application. You can find the documents on the EPA website, and a checklist of what's needed for submission in Appendix B of the Notice of Funding Opportunity here. You can also learn more about the application process on the EPA website.
Other resources that may be useful during your application process include:
What can I expect after I apply?
After you apply, your application will be considered according to the grant application criteria. 

EPA anticipates awarding 25-50 applications through this grant program, which will be split among the 10 EPA Regions – you can see the funding available by region on page 11 of the EPA Notice of Funding Opportunity. After the application period closes, EPA will be working with its regional offices to evaluate applications based on the merit criteria. 
What can I expect if I'm awarded funding?
Selected school districts may be informed of their award amount between November 2023 and January 2024. Between application and award announcements, you may receive follow-up communications from the EPA with updates or seeking more information.

This second round of funding through the Clean School Bus Program has $400 million or more in funding that can be used for electric school buses. Funds will be disbursed as grants that are available to school districts at the time of the purchase of new electric school buses. That means that school districts will not need to cover upfront costs themselves but can instead use federal dollars to cover purchase costs.

If you are awarded funds, you will have two years to transition to your new electric school buses and to complete the scrappage requirements for the buses you're replacing. There are some other requirements – like holding on to project documents and making your buses available for inspection – to be aware of, so be sure to review the EPA's program guide.
How many school districts will be awarded funding?
The EPA anticipates making 25-50 cooperative agreements under this grant program, split among the EPA regions. For a breakdown of how much funding is expected per EPA region, please refer to page 11 of the EPA's program guidance. 
How many buses will each grant award fund?
For individual school district applicants: the grant program will allow for a minimum of 15 buses and up to 50 buses per application. 

For third-party applicants serving at least four school districts: the grant program will allow for a minimum of 50 and up to 100 school buses.
How can I learn more?
To talk one-on-one with an Electric School Bus Initiative expert, or to join a group discussion, click here.

You can also reach out to the EPA directly at cleanschoolbus@epa.gov – learn more here. EPA will be accepting questions about the grant program until August 9th.
Why are electric school buses the right choice for my district?
Electric school buses are the only school bus type with zero tailpipe emissions. That means no tailpipe emissions of harmful pollutants that can be damaging to students' physical health and cognitive development.

Electric school buses are responsible for significantly lower levels of greenhouse gases than diesel-burning and propane-burning school buses, and they can save school districts thousands of dollars a year on fuel and maintenance costs.

Electric school buses run cleaner and quieter, and they're the best option for districts nationwide. With electric school buses successfully operating in urban, rural and suburban settings – and in every type of climate nationwide – they're proven to be effective and reliable.

Learn more about why electric school buses are the right choice here.