Article
| October 2, 2023
The Electric School Bus Transition Must Take Inequitable Electric Grids into Account
How can you help electric school buses contribute to a more stable and more equitable grid?
Image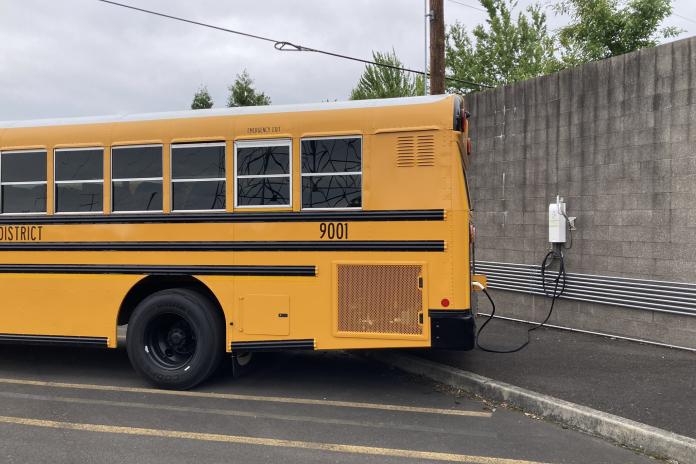 Electric school buses rely on and impact the electric grid. However, grid infrastructure does not serve all communities equally. In some areas, inequitable grid investment means that predominantly white communities and higher income communities experience fewer power outages. In other areas, outdated grids make it more difficult to invest in distributed grid resources like electric vehicles (EVs) – leaving some communities behind in the energy transition.  
How Electric School Buses Impact the Grid 
Charging infrastructure is a central aspect of electric school bus deployment and it can entail grid upgrades. If utilities proactively engage with school districts to conduct site assessments and look for opportunities to improve energy efficiency, they can direct grid investments to places that need them the most. Prioritizing upgrades in communities that have been historically underserved can help ensure they have better access to clean, reliable energy in the future.
Adding electric school buses to a site can also play a role in improving grid capacity. With their predictable use patterns and consistent long stretches in parking facilities, electric school buses can serve as grid assets through managed charging or vehicle-to-grid applications and reduce electrical load peaks. This service could help to create a more reliable, renewable power grid in areas with electric school buses. In emergency situations, electric school buses can provide stability and capacity to the grid during emergencies by acting as community resilience hubs. These capabilities make it even more important to prioritize electric school bus deployment in underserved areas.
How You Can Improve Your Grid 
School districts: Ask your utility about considering long term investments for both electric school buses and other distributed grid resources. 
Utilities: Prioritize working with underserved communities by actively reaching out to districts, spending time to educate district employees and providing opportunities for financial partnerships.  
Policymakers: Encourage utilities to invest in equitably distributed and sited infrastructure. 
Where You Can Learn More 
Sign up for updates from WRI's Electric School Bus Initiative, and never miss a new resource or opportunity to take action!
Sign up