Electric School Bus Initiative Advocacy Stakeholder Analysis: A baseline report
Learn more about the ESB Initiative's effort to center equity in stakeholder engagement.
Image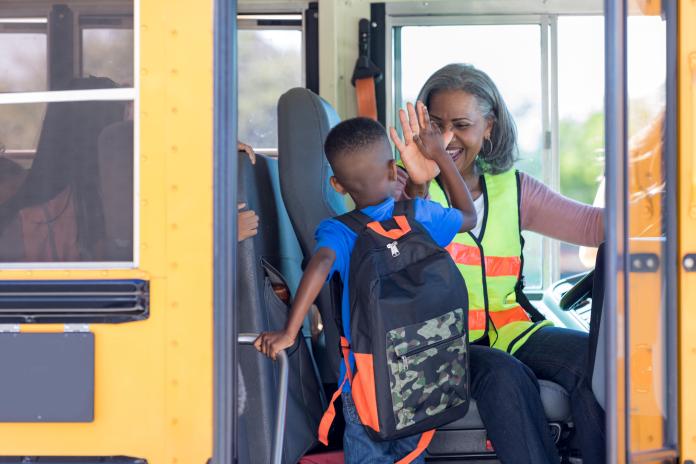 Download the Advocacy Stakeholder Analysis
As documented in the Electric School Bus (ESB) Initiative's "Equity Framework to Guide the Electric School Bus Initiative," the ESB Initiative is committed to leading with equity and centering intersectionality as its fundamental approach. In continuation with our strategy to center equity in the project and the ESB transition, the ESB Initiative has conducted two additional baseline research efforts to understand and mitigate existing systems of power and access within the ESB transition: a needs assessment (to be published soon) and a stakeholder analysis, available for download here.  
This working paper focuses on the baseline advocacy stakeholder analysis of U.S.-based environmental, health, disability, and tribal rights and justice representatives (hereafter referred to as "equity and justice organizations"). 
The primary objective of this stakeholder analysis is to gather and analyze qualitative information regarding respondents' views and involvement in the ESB movement as well as their views on the involvement of WRI, utilities and manufacturers in the equitable transition to ESBs in the United States. The secondary objective is to provide the ESB Initiative team with an opportunity to identify and establish relationships with key equity and justice actors at the national and local level and to assess their knowledge, interests, positions, alliances, and importance in relation to school bus electrification. 
The stakeholder analysis provides additional qualitative information to support the equity framework and complements the data gathered from the online survey and post-survey focus group of the upcoming needs assessment. It does so in three main ways: 
First, the analysis aims to ensure that the voices and needs of under-served communities (for whom the equity and justice organizations serve as proxies)—those who are often last to receive benefits of such a transition—are considered in the ESB Initiative decision-making processes, marketing and communications, research and evaluation, and partnerships with local and national community-based organizations, advocates, and other key stakeholders.

 

Second, it provides feedback from nonprofit equity and justice organizations that often serve the communities or populations where these schools are located or partner with other local and national organizations that serve them; this feedback provided the researchers with professional opinions on this movement.

 

Third, the stakeholder analysis affords interview participants the opportunity to ask questions of the research team, dive deeper into issues that come up during the discussion and articulate strategies and recommendations in their own words.

 
Our goal in sharing our baseline equity research is to ensure that key stakeholders interested in the electrification of school buses understand how and why the ESB Initiative is prioritizing equity. Transparent and inclusive processes are a central tenet of equity. We hope that publishing our findings and recommendations provides an opportunity for partners to hear about our equity-centered processes and ideas, provide input and engage in a conversation about opportunities to advance equity through joint efforts. 
For more information, or to discuss further updates, please reach out to Alyssa Curran at alyssa.curran@wri.org. 
Suggested citation:
Brown, C. T. and A. Curran. 2023. "Electric School Bus Initiative advocacy stakeholder analysis: A baseline report." Working Paper. Washington, DC: World Resources Institute. Available online at doi.org/10.46830/ wriwp.22.00154.