Article
| October 17, 2022
Leading The Charge: Advocacy Organizations at the Forefront of the Electric School Bus Transition
Learn more about some of the organizations that have worked for years to get electric school buses on the agenda.
Image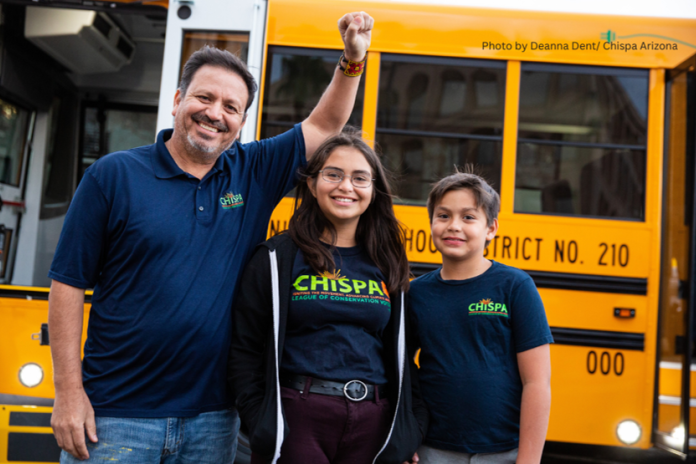 The thousands of electric school buses on the road, or on their way, to districts across the country are the result of sustained advocacy from many local and national organizations. For years, these groups have organized communities, educated policymakers and worked with school districts to ensure that students across the country have a clean ride on electric school buses — and can leave diesel behind once and for all.  
Their efforts have created unprecedented momentum. From steering Volkswagen Settlement funding to electric school buses, to putting a #CleanRide4Kids on the national agenda, and bringing that agenda to life through the $5 billion EPA Clean School Bus Program, these organizations are the reason we can say "the electric school bus moment is here." 
And, many of them are only getting started. 
Below are some of the groups leading the charge. The list is far from complete, and WRI is proud to partner with many of these organizations. We encourage you to explore their resources and connect with and support their work to electrify school buses. 
If you know of an organization that may be missing from the list below, please reach out to us at ESBinfo@wri.org.
Image

Alliance for Electric School Buses

The Alliance for Electric School Buses is a diverse partnership of nonprofit organizations united by a commitment to fully transition the nation's school bus fleet to electric models that will clean up the air for 25 million U.S. children and the communities these buses travel through — starting in the communities most harmed by air pollution.

Image

Canadian Electric School Bus Alliance

The Canadian Electric School Bus Alliance is a public voice in favor of accelerating the uptake of electric school buses. CESBA supports and rallies stakeholders from diverse sectors across Canada to develop strategies and recommendations at the federal and provincial levels of government that will enable all Canadian school bus fleets to transition from diesel to electric power by 2040.

Image

Chispa

Chispa is a grassroots community organizing program building the power of Latinx and communities of color in the fight for climate justice.  

Image

Clean Energy Works

Clean Energy Works accelerates inclusive investments that open the clean energy economy to all.

Image

Earthjustice

Earthjustice is the premier nonprofit public interest environmental law organization, wielding the power of law and the strength of partnership to protect people's health and combat climate change. 

Image

Electric School Bus Newsletter

The Electric School Bus Newsletter engages a nationwide audience with curated, unscripted information and insights. 

Image

Environmental Law & Policy Center

The Environmental Law & Policy Center is the Midwest's leading environmental legal advocacy organization. 

Image

Équiterre

As one of the main environmental organizations in Québec, Équiterre seeks to make the necessary collective transitions towards an equitable and environmentally sound future more tangible, accessible and inspiring. Since 1993, Équiterre has worked with citizens, organizations and governments to develop projects in transportation, agriculture, energy, consumption and climate change.

Image

Green Communities Canada 

Green Communities Canada supports grassroots-led climate action through a national network to share resources, co-create innovative programming, and elevate our collective impact. Our programs and services focus on key areas of national transformation, including active school travel, bus electrification, low-carbon home energy solutions, and nature-rich cities.

Image

Jobs to Move America

Jobs to Move America is a strategic policy center that works to transform public spending and corporate behavior using a comprehensive approach that is rooted in racial and economic justice and community organizing. They seek to advance a fair and prosperous economy with good jobs and healthier communities for all. 

Image

Moms Clean Air Force

Moms Clean Air Force is a community of over 1 million moms and dads united against air pollution — including the urgent crisis of our changing climate — to protect our children's health. 

Image

Sierra Club Clean Transportation for All

Sierra Club's Clean Transportation for All campaign believes that we can tackle the climate crisis and clean up our air by shifting to pollution-free electric school buses and vehicles, creating accessible public transit and making our communities more walkable, bikeable and transit-friendly. 

Image

Sierra Club New Jersey Chapter

The New Jersey Chapter of the Sierra Club represents over 20,000 members and is the recognized leader in the state in advocating for electric school buses.   

Image

Southern Alliance for Clean Energy

The Southern Alliance for Clean Energy (SACE) is a nonprofit organization that promotes responsible and equitable energy choices to ensure clean, safe, and healthy communities throughout the Southeast. 

Image

Virginia Clinicians for Climate Action

Virginia Clinicians for Climate Action educates and mobilizes clinician leaders to bring the health voice to climate policymaking in Virginia through advocacy, education/research and community outreach.